Waiting As the Space Eggs of Light Incubate
by Junichi Arai (Textile Planner)
There is a certain pleasure, a certain joy that we experience when we find ourselves face to face with the unknown, the unseen of this world. But when we look back upon what we have seen, the experience may turn horrifying and we feel as if we have been through the abyss of horror.
To know the unknown, to see the unseen. Perhaps it means the timeliness of an art. It is the advance guard of the times who can see what is to come with the desire to know our fears as our real nature who open the eyes of those who cannot see that which is before them. Such is the fate of an artist.
Seeing the work of that magician of light Minori Yamazaki is just such an experience - experiencing the unknown, seeing what has not been seen. It is not simply the passive experience of viewing art. No, that isn't it all. The viewer creates the same experience just as the artist does when encountered with Yamazaki's work. l wonder if Yamazaki himself is aware of all that his work imparts to the viewer? I doubt it. Yet it is he, the artist, who understands the interplay between light and his work better than any dazzled viewer of the unknown.
Yamazaki knows that he cannot keep up with what he creates. It becomes too much for even him. Therefore, he speaks lightly of that his own creations live alongside him in the times as the inevitable fruit of his labor.
He often talks of how he wants his viewers to enjoy his work. He speaks calmly as if talking about someone else's creation. The world that Yamazaki creates with his works is as infinitely varied as the physical function of the viewer allows it to be. Of course, this is true for all works of art.
It's all a question of degrees of sensitivity and the ability of the soul to grasp what is presented. It is a process that leads to freedom of sensitivity.
At any rate, that's how Yamazaki describes it. But I'm not so easily convinced.
What we have here is no simple mechanical gadget in a cheap circus tent. The act of viewing brings about the birth of sensitivity in the eyes of the viewer who is then captured by that sensitivity. That's what it's all about.
The process of knowing the unknown and seeing the unseen is the same for the artist and the viewer alike. They are both captivated by what they experience.
It is no rare phenomenon for a work of art to end up different from the initial image that led the artist to create it. But it is rare that an artist sees his own work and recoils in utter shock and horror when he grasps what he has done.
One should not be surprised if in viewing Yamazaki's work he dis-covers something that the artist himself has not seen. Perhaps this is what Yamazaki means when he talks of the timeliness of what he creates.
It is not simply a matter of an artist bringing forth a creation from nothing.
It is the age in which he works that is the creator and he, the artist, is there to help in the process of creation partly by putting himself in a viewer's place.
Of course without Yamazaki his works could not be. It would be better to say that the works are the result of a collaboration between Yamazaki and his age.
What allows Yamazaki to so unpretensiously create his network of light is precisely the fact that in the process he finds himself to some extent an observer watching as his age creates. This frees him from any possibility of artistic arrogance.
These are not such weak apparitions as the fleeting sparks given off by fireworks against a night sky or electric illumination which are turned on and oft with a switch.
In the midst of Yamazaki's "Cumos" we find the existence of dotted light that has been locked in tight.
The more he tries to extract that light out of the case that contains it, the more it leads him into the world of the internal experience.
I wonder what will arises from the Space Eggs of Light. Perhaps we will witness the moment when we are liberated from our fear and expectation.
The insolent images that we can draw from Yamazaki's rough sketches have yet to be accepted by his viewers.
There's nothing to do but wait with keen interest.
-september 1989
■ new CUMOS site
CUMOS.JP
cubic cosmos scope
■ cubic 3D kaleidscope = mirror box 鏡箱
サイコロ型万華鏡 CUMOS
■万華鏡伝導
UAPふくろうの会
More information...
Light art FANTACL cosmos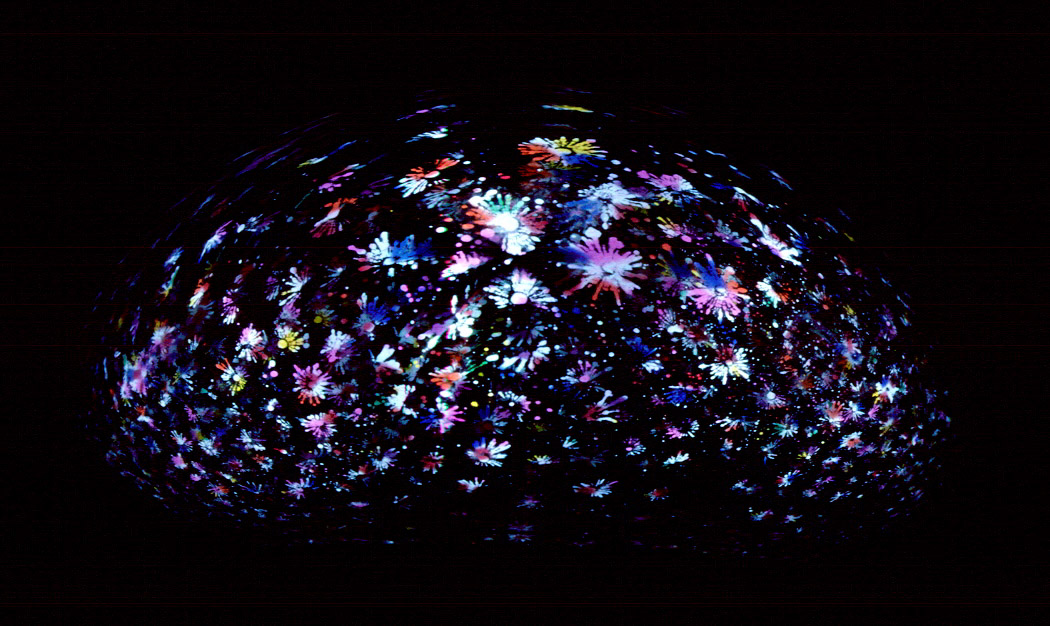 Artist Site=
MINORI YAMAZAKI's Internet Museum
ヤマザキミノリ . 山崎稔のインターネット美術館
■ new CUMOS site
CUMOS.JP
cubic cosmos scope
■ cubic 3D kaleidscope = mirror box 鏡箱
サイコロ型万華鏡 CUMOS
■万華鏡伝導
UAPふくろうの会
light art series FANTACL Pyramid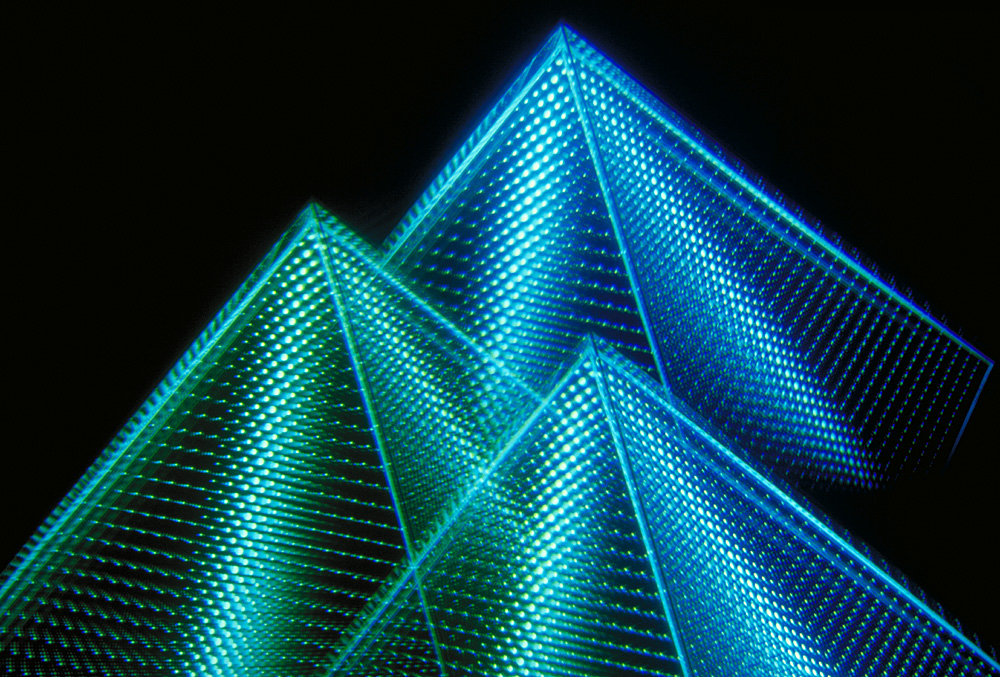 Internet Museum of MINORI YAMAZAKI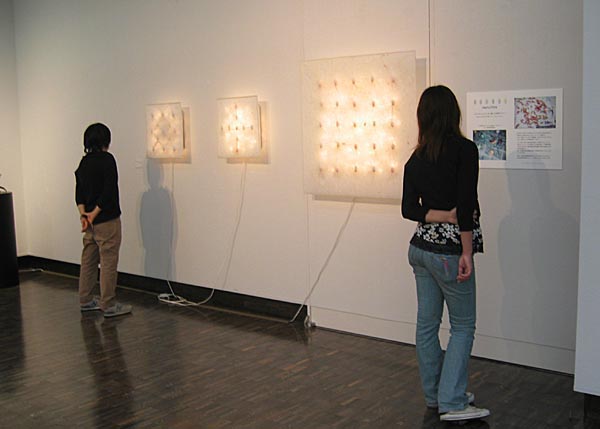 JAM session 2005 女子美教員作品展に
MAYUTORIXを出品
しています。
16日は午後に会場でギャラリートークを担当しました。プロジェクターを使って、制作過程の説明を行い、この作品を制作するまでに至る、他の作品系譜を話しました。
MINORI YAMAZAKI
URL=
http://www.fantacl.com
2002年夏 群馬県蚕業試験場にて制作  [作品アーカイブ資料]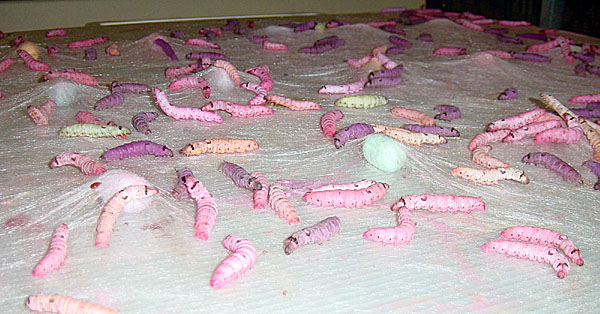 餌に混ぜられた染料により体が染まったカイコたちが水平に置かれた板の上で、繭が作れずに絹糸を吐き出してしまうパフォーマンスの軌跡です。
 あらかじめ繭になっているカラー繭を配置し、その上にさらにカラーカイコを這わせ、繭を閉じこめた平面繭を形成しています。90cm平方の作品で約500匹のカイコを使っています。つまり500匹のカイコによるコラボレーションワークともいえます。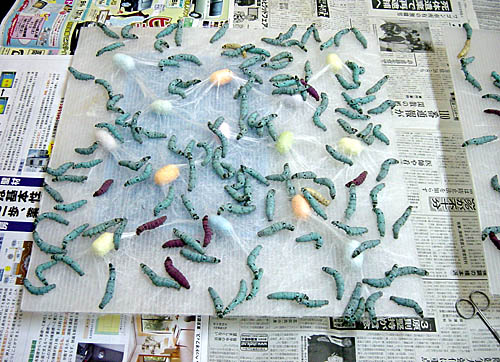 制作は、前橋の群馬県蚕業試験場の協力により、2002年9月に行いました。
素材は同試験場で開発されたレインボー繭とカラーカイコを利用しています。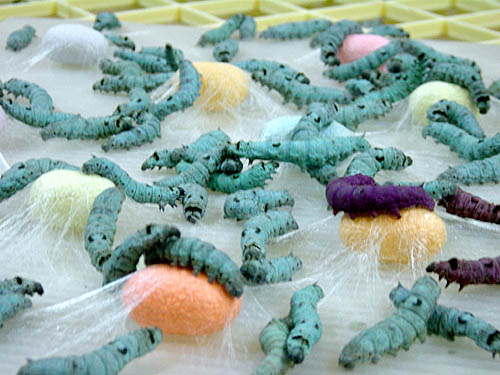 協力:群馬県蚕業試験場 育蚕飼料課 岸弘子独立研究員
■作品サイト 1
ヤマザキミノリのインターネット美術館-1
空間デザイン、環境造形、展示設計"Christmas Decoration, Display Design, Public Art, Installation, Art works"
■作品サイト 2
ヤマザキミノリのインターネット美術館-2
ライトアート、立方体万華鏡、オブジェ、インスタレーション"cumos, Light art, CG, Installation"
ライトアートシリーズ: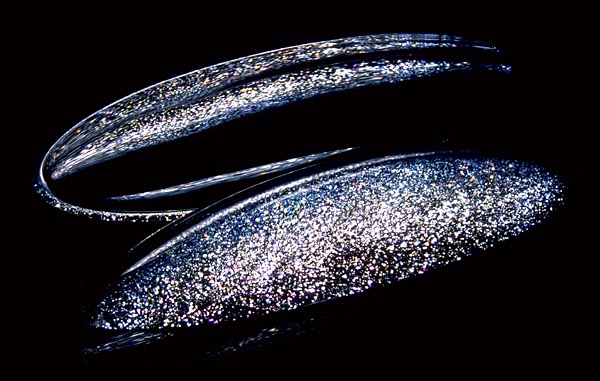 アクリルミラーとハーフミラーを真空成形しアルミ真空蒸着を施しミイラー加工した素材を使用。
・ベースの照明部分の大きさ w1100×d400×h250